Model: Panasonic S5
Sensor Size: Full Frame Camera Format
Resolution: 24 MP
Max Video Quality: 4K 60fps
In-Body Stabilization: 5-Axis Digital
Special Features: Bluetooth, Mic Input, Touchscreen
Configuration: Body Only
Compare
Description
Hybrid Compact Body.
This hybrid mirrorless camera features a full frame image sensor, 10-bit 4K 60p recording, 14 stops of V-Log, & more – all in a compact, incredibly lightweight body.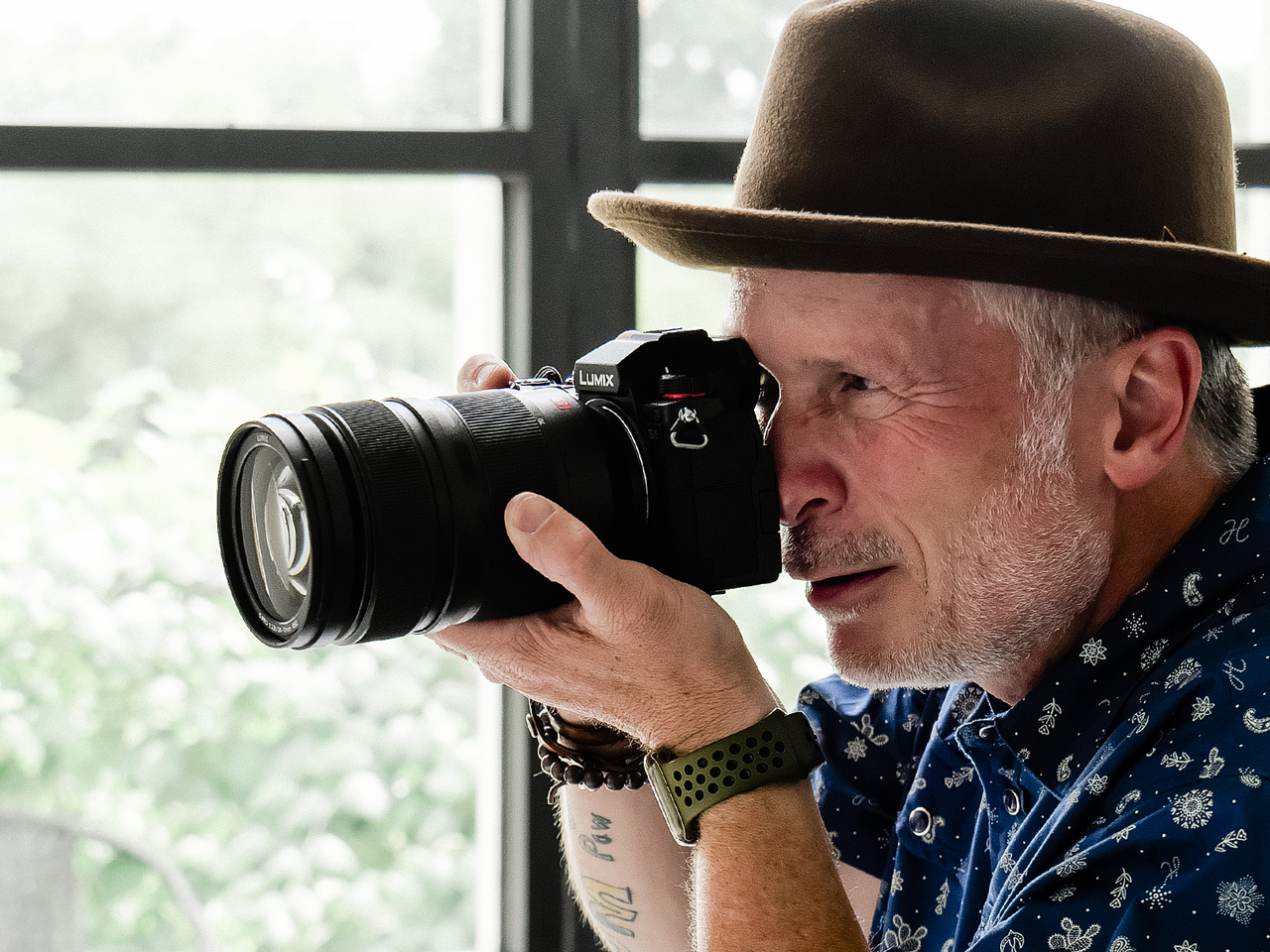 24.2 MP Sensor With Dual Native ISO Technology.
The 24.2 MP Sensor with CMOS Sensor delivers high sensitivty and top image quality in both still photos and videos. Dual Native ISO Technology further enhances video performance.
Recording Modes For A Wide Range Of Needs.
Recording modes include 4K 60p/50p 4:2:0 10-bit, and 4K 30p/25p 4:2:2 10-bit internal recording – plus 4K 8-bit with no limitation of video recording time.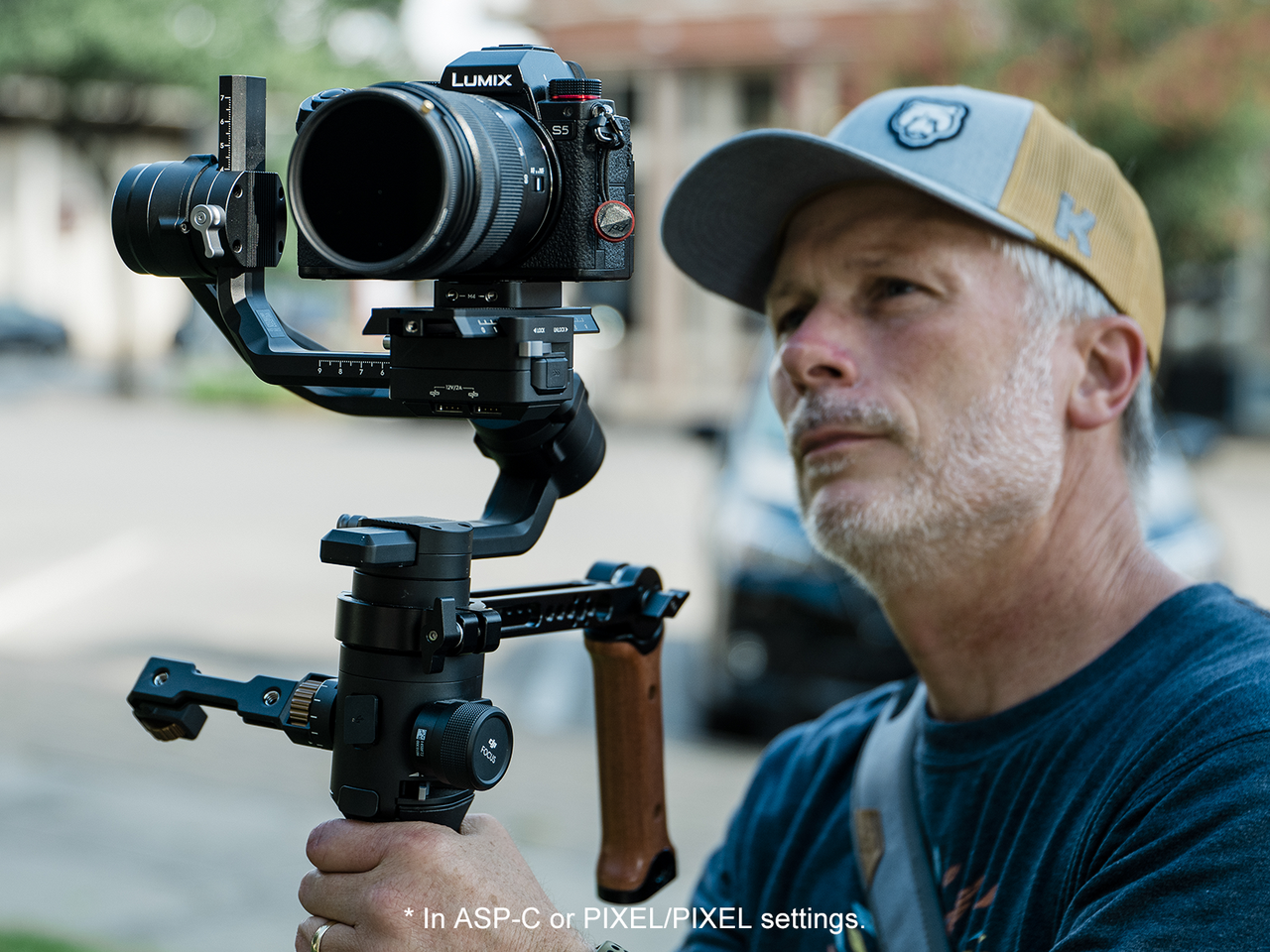 4:2:2 10 Bit Internal Recording/HDMI Output.
In the 10 bit setting, 4:2:2 10 bit HDMI Output is supported along with simulataneous External drive/SD recording.
14+ Stops Of V-Log & V-Gamut "VariCam Look".
V-Log & V-Gamut come pre-installed. With 14+ stops of Dynamic Range, and a wide color spectrum, performance rivals that of a varicam professional cinema camera.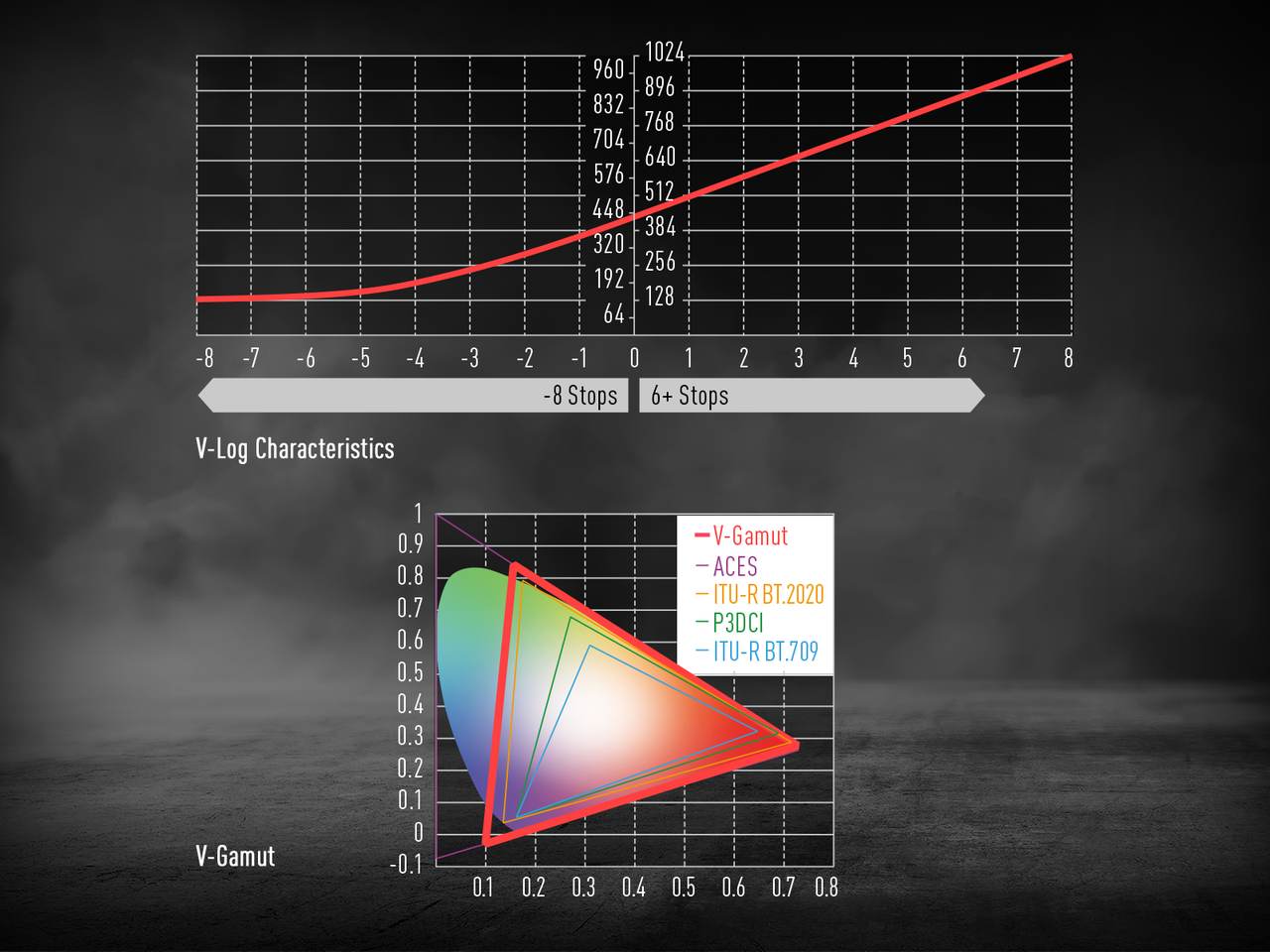 Autofocus Featuring Advanced AI Technology.
Features high speed, high precision AF, and deep learning for recognition of human faces, bodies, as well as animals.
96 MP High Resolution Mode With JPEG.
Photos can now be saved directly in JPEG mode for finely detailed 96 Megapixel equivalent images.
6.5 Stop Dual I.S. 2 (Image Stabilizer).
5 axis dual IS 2 combines control of the body IS and lens OIS to offer 6.5 stops worth of correction.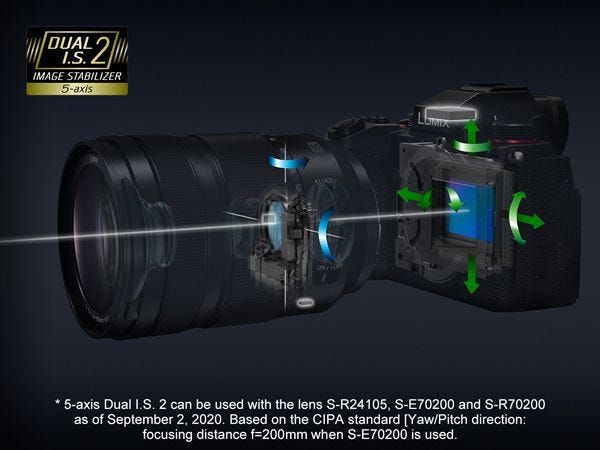 Dust & Splash Resistant.
The tough body is dust and splash resistant thanks to sealing and other protective seams, buttons and other functional parts.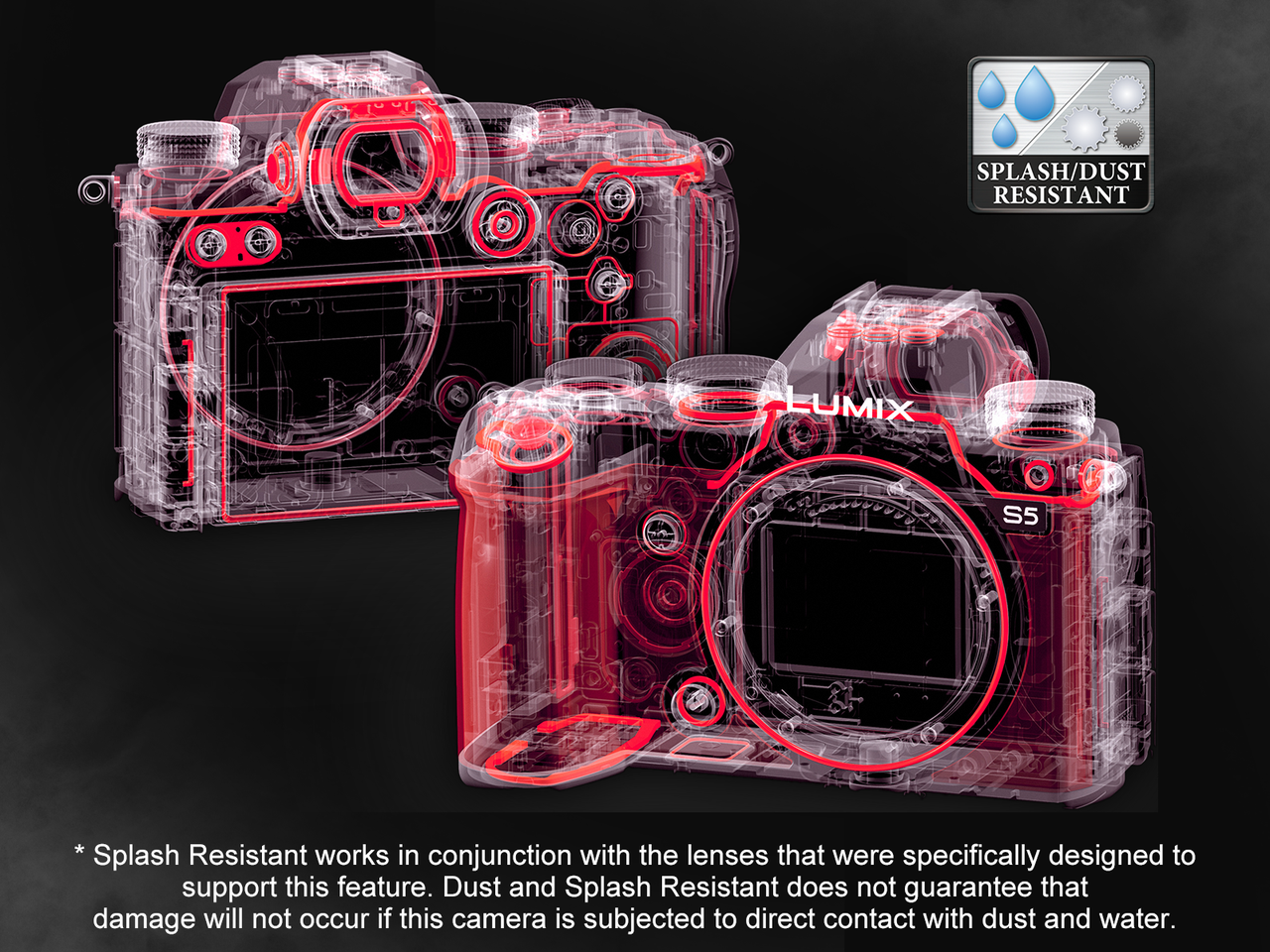 LUMIX S5 is a high-quality, high-performance hybrid full-frame mirrorless camera designed especially for content creators, helping you bring your ideas forward in breathtaking clarity and color. Still photos and video come alive using the latest advances in image resolution, image stabilization, and autofocus, all in the lightweight, compact, durable body that is the signature of Lumix.
At the heart of the camera, the LUMIX S5 contains a 24.2-megapixel 35mm full-frame CMOS sensor that boasts a wide dynamic range and high sensitivity performance made possible by sufficient light condensation. The LUMIX S5 further realizes recording maximum ISO51200 crystal-clear high sensitivity video with the adoption of the Dual Native ISO technology.
As a pioneer of photo/video hybrid mirrorless cameras, the LUMIX has the largest lineup of cameras that record 4K 10-bit video. As the latest member of the family, the LUMIX S5 is capable of 4K 60p/50p 4:2:0 10-bit, and 4K 30p/25p 4:2:2 10-bit internal recording. It is also capable of 4K 60p/50p 4:2:2 10-bit HDMI output. For 4K 30p/25p 4:2:0 8-bit internal recording, there is no time limit.
Panasonic's exceptional heat dispersion technology realizes stable, long time video recording. The LUMIX S5 provides 14+ stops of dynamic range, which is as wide as those of cinema cameras, and V-Log / V-Gamut compatibility with popular colorimetry called "VariCam Look". A variety of recording formats and modes including 4:3 Anamorphic mode, Slow & Quick Motion, 4K/60p interval shooting and 4K HDR are also provided.
The LUMIX S5 boasts high-speed, high-precision AF in both photo shooting and video recording that are made possible with advanced deep-learning technology featuring real-time detection of the subject's type and parts such as human eye, face, head and body.
Combining the Body I.S. (5-axis) in the camera and the O.I.S. (Optical Image Stabilizer, 2-axis) in the LUMIX S Series lens, the 5-axis Dual I.S.2 compensates for blurring even powerfully, allowing the use of a 6.5-stop slower shutter speed. The splash/dust-resistant rugged design provides professional photographers with high reliability.
To enhance the photographic experience, the 96-megapixel High Resolution Mode (JPEG/RAW), Live View Composite function and HLG Photo mode are available. Thanks to the high energy efficiency and a new 2,200mAh high-capacity battery, it can capture approximately 470 pictures (using the LVF) / 1,500 pictures (in Power Save LVF mode). It complies with a USB power charging and power supply.
Double SD Card slot (UHS-IIx1 and UHS-I x1), 5GHz/2.4GHz Wi-Fi and Bluetooth 4.2 connectivity are also supported. The LUMIX S Series full-frame mirrorless camera system adopts the L-Mount system to provide users with a diverse and future-proof range of products from Panasonic, Leica Camera and Sigma.
A Lightweight, Powerful Hybrid Camera for Vibrant Still Photography and Cinematic Video:
Realize your creative vision with a compact hybrid camera that delivers gorgeous, high-sensitivity still photography and extraordinary 4K 60p, 4:2:2 10-bit video recording, offering a FHD 180fps Slow Motion option as well as 4:3 Anamorphic support. The S5 is perfect for use when talking still photos or as a vlog camera.
Detailed Photo and Video That Will Delight Enthusiasts And Experts Alike:
The Lumix S5 makes it easy and accessible to capture content in impressive high resolution. 96MP High Resolution Recording mode delivers with clarity and precision. Dual Native ISO minimizes noise in high sensitivity. V-Log/V-Gamut compatibility offers a 14+ stop dynamic range to capture every detail.
Improved, High-Precision Autofocus and Powerful Image Stabilization:
Improved autofocus includes detection of the head as well as eyes, face and body, to capture subjects with ease and precision. 5-axis Dual I.S. 2 enables 6.5-stop slower shutter speed. Also equipped with Double SD memory card slot (UHS-II/UHS-I) for reliability.
Expanded Features Offer New Levels of Creativity:
Use Live View Composite mode to instantly create a stunning image out of several live shots; the shutter releases at designated intervals of exposure time to merge the bright parts into a single image. Useful for shooting fireworks or a starry sky.
Compact, Resilient Camera Sustains Prolonged Use:
The S5 has the lightweight portability you expect from LUMIX, and is dust and splash resistant to withstand tough field use. Optimized heat dispersion ensures a stable, continuous video recording without interruption.
– LUMIX S 20-60mm f/3.5-5.6 L-Mount Lens –
Panasonic's sleek and versatile LUMIX S 20-60mm f/3.5-5.6 zoom lens captures moments in ultra-wide to short portrait-length fields of view. This L-mount lens even offers versatile focus to go with its distinct focal length range, allowing you to shoot subjects as close as 5.9 inches. Plus, the lens features 0.43x magnification for near-macro performance. It even has a rounded, nine-bladed diaphragm that produces beautiful bokeh. Aspherical, high refractive index, and low dispersion elements help this LUMIX S lens control various aberrations and produce crisper images.
And if you're using autofocus while taking stills and videos, the zoom lens has a stepping motor for quick, precise, and near-silent autofocus. Panasonic built this telephoto zoom lens for its full-frame L-mount mirrorless cameras, but it will also work on APS-C models. You'll get a 30 to 90mm equivalent focal length range when you use the lens on an APS-C camera. It features an AF/MF switch so that you can instantly switch between focusing modes, too. For fewer smudges and easier lens cleaning, Panasonic has applied a fluorine coating to the front element. You can also use this zoom lens in tough conditions as it's weather-sealed.
Versatile Focal Length.
The LUMIX S 20-60mm F3.5-5.6 is a compact, lightweight standard zoom lens in a L-mount/full-frame format. Covering from ultra wide 20mm to standard 60mm focal length, it supports versatile shooting opportunities from landscapes to snap shots.
Close Up Capability.
Wide view angle makes it easier to shoot indoors where room space is limited and minimum focusing distance of 5.9-inch (maximum magnification 0.43x) supports close-up photography.
Video Support.
High optical performance ensures superb image quality from center to edges, while keeping the body size small. Thanks to the mechanism that suppresses focus breathing, smooth and high quality video recording is made possible.
Rugged Design.
The rugged dust/splash-resistant design withstands use under harsh conditions even at 14 degrees F for high mobility. In addition, a fluorine coating on the front element protects the lens from water and oil. The filter diameter is 67 mm, with a 9-blade circular aperture diaphragm.
Note: Dust and Splash Resistant does not guarantee that damage will not occur if this lens is subjected to direct contact with dust and water.
Panasonic Lumix DC-S5 Features
4K 60p, 4:2:2 10-bit, Anamorphic mode support
Slow & Quick Motion including FHD 180fps
96MP High Resolution mode
Improved Auto Focus with enhanced Eye/Face/Head/Body detection
Powerful Body I.S. (Image Stabilization) at 5-stop slower shutter speed and 5-axis Dual I.S. 2 to enable 6.5-stop slower shutter speed
Dust and Splash Resistant and optimized heat dispersion
LUMIX S 20-60mm f/3.5-5.6 L-Mount Lens Features
Versatile Focal Length
Close Up Capability
Video Support
Rugged Design